Candlelit vigil for those killed in unrest in Venezuela
Comments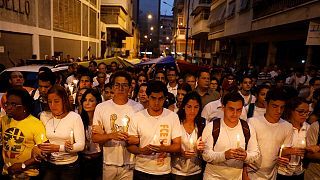 A vigil has been held in Caracas in Venezuela to honour the people killed in anti-government demonstrations.
At least 29 people have been killed and scores injured in a month of clashes between police and protesters over calls for the resignation of President Maduro.
One of those at the vigil, student Gustavo Lander, told reporters: "I came here today to protest and make a tribute to the people who gave their lives for a better Venezuela, a Venezuela in which we as students want to work to make it grow.
"This government is not letting us do that, not giving us the conditions to develop. They are killing us, so we are here to make a change."
On Saturday hundreds of people marched on a prison calling for the release of the opposition leader Leopoldo Lopez who was jailed in 2014 on charges of inciting violence.