Former Afghan warlord returns to his country calling for peace
Comments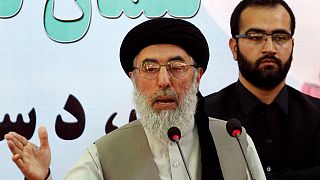 "I invite the Taliban to join the peace caravan and stop the pointless, meaningless and unholy war".
Those are the words from the former Afghan warlord Gulbuddin Hekmatyar who has returned to his country for the first time in 20 years.
This after he took part in the signing of a peace agreement last year.
Afghan government officials welcomed Hekmatyar's return.
Abdullah Abdullah, the Afghan Chief Executive,. said: "We are happy that Mr. Hekmatyar, the leader of Hezb-e-Islami, has answered the call for peace by the Afghan government.
"He is in his own country and on his own soil, proudly among his own people. Afghan people have also welcomed this move too.
"We hope this will be an example to others."
Hekmatyar is a former warlord who battled US forces after the 2001 invasion.
It was seen as a breakthrough when a peace agreement was reached between Hekmatyar and the Afghan president in September.