Calls for release of Venezuelan opposition leader
Comments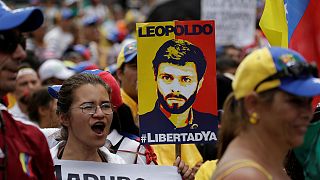 Hundreds of demonstrators have marched on a prison in Venezuela where an opposition leader is being detained.
The march comes amid ongoing street clashes between police and protesters calling for President Nicolas Maduro to step down.
Lilian Tintori, the wife of the jailed opposition leader Leopoldo Lopez, told reporters: "They told us he can't be contacted, he's in isolation and can't be visited. It's been a month with no news.
"His lawyers come every day but aren't given access. Leopoldo is being held by the regime of Maduro, by the military."
Lopez was jailed in 2014, accused of inciting violence.
At least 29 people have been killed and scores injured in renewed unrest that began a month ago.
Hundreds of people have been arrested.