1945 liberation of Dachau Nazi camp remembered
Comments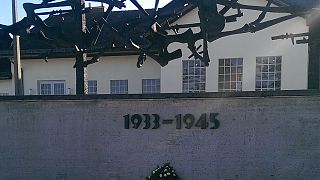 The anniversary of the liberation of the Dachau Nazi concentration camp in Germany is being marked.
It was on April the 29th in 1945 that the horrors at the camp were discovered, just a week before the end of the Second World War.
Involved in the liberation of the first camp set up by the Nazis in 1933 were two divisions of the US Seventh Army and the 20th Armoured Division.
The gate bearing the Nazi slogan "work sets you free" is a well-known feature at the site.
Dachau was made up of a main camp just outside the town of the same name and there more than 120 sub-camps and factories in the surrounding area.
Every year scores of visitors come to Dachau to pay their respects to the tens of thousands of prisoners who died there.