West Bank clashes erupt as Palestinians protest prisoner conditions
Comments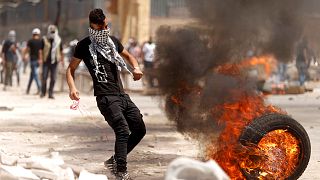 There've been fresh clashes in the West Bank between Israeli forces and Palestinians protesting over prisoners in Israeli jails.
Palestinian political parties have called today a "day of rage" as anger swells over poor conditions
in Israeli prisons.
It's thought around 1,500 inmates are staging an open-ended hunger strike against Israel's policy of detention without charges or trial, that's been applied since the 1980s.
The action was called for by prominent prisoner Marwan Barghouti, who's widely seen as a possible future Palestinian president.
On Thursday, Palestinians throughout the West Bank and the Gaza Strip observed a general strike in support of the hunger-striking prisoners and detainees.
Israel has vowed not to negotiate with the hunger strikers.