Security tight at 30th ASEAN summit in the Philippines
Comments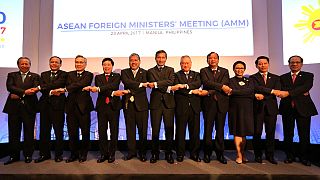 "Anti-imperialist" demonstrators have gathered outside the US Embassy in Manila as the 30th summit of the Association of Southeast Asian Nations kicks off.
High on the agenda at this meeting is the growing tension over North Korea, territorial disputes in the South China Sea and the threats of terrorism.
But trade and business partnerships will also be a big talking point.
Security is high for the summit, with foreign ministers and heads of state from 10 countries attending.
This year marks the 50th anniversary of ASEAN, whose rotating presidency this year is held by the Philippines.