German soldier posing as Syrian refugee arrested for 'planning attack'
Comments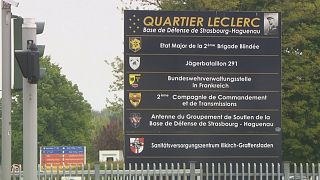 A German soldier who posed as a Syrian refugee has been arrested for planning an attack that would have been blamed on asylum seekers.
A second suspect was also arrested, believed to be a co-conspirator.
Authorities in Frankfurt believe the 28-year-old suspect was motivated by xenophobia, and planned an attack in order to blame it on migrants or refugees.
"He is believed to have posed as a Syrian war refugee at the end of December 2015 using a false name. He is believed to then having asked for asylum with authorities in Bavaria before receiving accommodation at a Bavarian refugee centre," Frankfurt prosecutor Nadja Niesen told reporters.
Security concerns are paramount in Germany which has seen a string of ISIL-inspired attacks over the past year. Chancellor Merkel's decision to open borders in 2015 polarised opinion, and led to a rise in hate crimes.