Brazil cities paralysed by nationwide anti-austerity strikes
Comments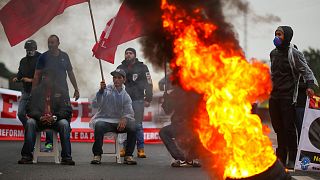 Nationwide strikes led by unions in Brazil to protest against government austerity measures have seriously disrupted public transport in several cities.
Police clashed with demonstrators in several cities, blocking protesters from entering airports and firing tear gas in effort to clear roads.
This week has seen congressional bills make progress to weaken labour regulations.
"We are demanding our rights, as workers, because the president of the country proposed a law for people to work more and live less, so you will only receive your pension when you die," said Edgar Fernandes, a 69-year-old dock worker.
In Sao Paulo, Brazil's economic hub, and other cities, protesters used barricades of burning tyres and other materials to block highways and access to airports.
Violent protests have occurred repeatedly during the past four years amid political turmoil, the country's worst recession on record, and corruption investigations that have revealed huge scandals among politicians.
At Rio de Janeiro airport fights broke out between union workers and passengers.
The strike was called for 24 hours but the impact could be felt into the weekend and beyond.