Spanish and Romanian taxi firms rally against Uber and Cabify
Comments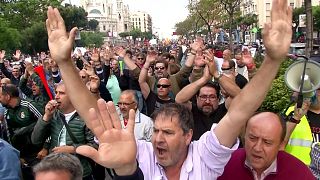 Taxi drivers in the Spanish capital have been protesting over ride-hailing apps Uber and Cabify.
Demonstrators claim their rivals are breaking the law and are unfair competition because they do not return to base once they complete a job, opting instead to remain on the streets where they continue to pick up clients. Both firms, however, deny using illegal practices.
The strike cut off traffic in Madrid for two hours.
There were similar scenes in the Romanian capital Bucarest where thousands of drivers taxis and minibuses demonstrated against Uber and other unauthorised transport services.