Gallipoli landings remembered, 102 years' on
Comments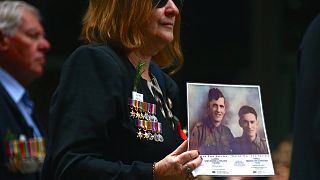 It is 102 years since the Gallipoli landings, an event that marked the start of one of the bloodiest campaigns of the Great War.
"At Gallipoli we fought a noble enemy, and in time they became our friends."
ANZAC

day

In Sydney, thousands gathered to for ANZAC day in which veterans and active service personnel parade through the streets to remember all Australians and New Zealanders who have served in all conflicts.
Royal Australian Navy veteran, Suzy Whitty, proudly wears her medals during Anzac Day in Sydney. #AusNavy#AnzacDay#yessheservespic.twitter.com/DT7hU8A0zd

— RoyalAustralianNavy (@Australian_Navy) April 25, 2017
This year, the parade was accompanied by a Scots College Pipe Band, and flag waving from the people who had turned out to line the streets.
Other parades and events were held throughout the world.
cwgc</a> <a href="https://twitter.com/hashtag/cwgc100?src=hash">#cwgc100</a> <a href="https://twitter.com/hashtag/AnzacDay?src=hash">#AnzacDay</a> ceremony at Damascus war cemetery, Syria. <a href="https://t.co/Y0nR9BhmeN">pic.twitter.com/Y0nR9BhmeN</a></p>&mdash; David Bennett (Bennett22David) April 25, 2017
Australian Prime Minister Malcolm Turnbull said:
"We do not glorify war. ANZAC Day is not the anniversary of a great victory, but it commemorates the triumph of the human spirit."
My message to you this Anzac Day: https://t.co/bPO6jjJvHV

— Malcolm Turnbull (@TurnbullMalcolm) April 24, 2017
dawn ceremony
At ANZAC Cove on the Gallipoli peninsular in Turkey, a dawn ceremony was held to commemorate the dead from all sides of the campaign, which lasted eight months.
Amy Adams, the New Zealand Justice Minister, and Julie Bishop, the Australian Foreign Minister laid wreaths to commemorate the more than 130,000 who died, including 87,000 from the Ottoman side.
#Ottoman propaganda leaflet, dropped on #Anzac troops. They could not win. But still, they were worthy enemies. #gallipoli17pic.twitter.com/Oj3CcEDYMl

— Fatih Bas (@mefaba) April 25, 2017
Amy Adams said:
"At Gallipoli we fought a noble enemy, and in time they became our friends. We now stand shoulder to shoulder with Turkey, remembering our fallen men and the spirit in which they fought. We honour the Turkish people, who stand vigil at the graves of our men, and we thank them."
Julie Bishop said:
"They were far from home for within months of the commencement of the Great War, Australian men in their thousands had volunteered to join our armed forces to fight in far distant lands. From every community, from every walk of life, Australian sons and fathers, husbands and brothers answered the call of patriotic duty."
security concerns
The Australian government had received information of a possible terrorist attack during the dawn ceremony in Turkey, which was conducted under heightened security.
The event passed without incident.
What were the Gallipoli landings?
On 25 April, 1915, thousands of troops from Australia and New Zealand landed on the Gallipoli peninsular.
The landings marked the start of an eight-month campaign, which was one of the bloodiest of the Great War.
Over 130,000 died, including 87,000 from the Ottoman side.
The landings are important to Australia and New Zealand because they marked the first time that soldiers from those countries fought under their own flags, instead of those of the British Empire.
The day is commemorated in New Zealand and Australia each yearANZAC day.
Anzac Cove and #Gallipoli: then and now – interactive: #gallipoli17https://t.co/eWEaKAjqCtpic.twitter.com/iVDeAJnsT7

— John Pellow Brisbane (@JohnPellow4) April 25, 2017
The Turkish people mark what they call the Canakkale War on 18 March, the day when the main Allied naval assault on the Dardanelles Straits began.