Macron and Le Pen go head-to-head in the race for the French presidency
Comments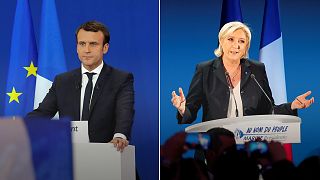 Front National leader Marine Le Pen was in jubilant mood this morning having got through to the second round of the French presidential race.
Battle lines are drawn
Le Pen celebrated her success by launching a blistering attack on her opponent, Emmanuel Macron, accusing him of weakness on national security:
"I'm on the ground to meet the French people to draw their attention to important subjects, including Islamist terrorism, on which the least we can say is that Mr Macron is weak."
Speaking from a bustling market in her constituency, Le Pen said that her party needed to convince all sections of the French people.
"I am not limited to this or that category of French. I think that many will discover the background of Mr. Macron`s project."
live televised debate
On 3 May both candidates will have the chance to air all of the issues in a live televised debate, just four days before the voters go to the polls for a second time.
Rachline: le débat d'entre-deux-tours « devrait avoir lieu » https://t.co/N0O2Sj96WZ#Presidentielle2017pic.twitter.com/rdoYYrZRTn

— Présidentielle 2017 (@_elections) April 24, 2017
In previous television debates, the candidates had severely restricted time to speak because of the need to give equal air time to all eleven of those standing in the first round.
Emmanuel Macron greets his supporters
Emmanuel Macron was also cheerful as he greeted supporters of his fledgling En Marche! movement this morning as he left his Paris home.
After taking a 23.7% share of the vote in the first round, Macron said that he would bring new faces and talent to transform a stale political system.
Failed candidates declare for Macron
Socialist candidate Benoît Hamon, and Republican François Fillon, have both pledged their support to Macron, saying that voters must prevent the far-right Front National from coming to power.
In Paris, leftwing protesters clashed with riot police after the success of Marine Le Pen was announced.
Opinion polls predict Macron win
An Opinionway poll published today predicts that Macron will win the second round by 61% to Le Pen's 39%.
Political earthquake
From Paris euronews's correspondent Anne Devineaux said:
"By pushing the two big parties out of the game, the French have provoked an unprecendented and profound political earthquake. They now have a choice between two contrasting candidates. Especially concerning Europe. One of the key subjects in the second round."