{Watch} Paris clashes after election results announced
Comments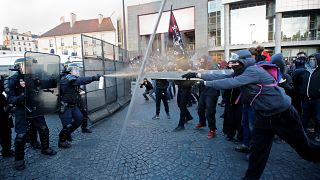 Not long after the projections for the first round of the French presidential ballot were made public, clashes broke out in Paris.
It appeared the trouble was between mostly far-left protesters and police at the Place de la Bastille.
The protesters reacted with fury when news spread that Marine Le Pen had made it through to the run-off vote.
At least two people, including a teenage girl, are reported to have been injured.
Riot police fired tear gas to disperse the crowds.