Indian Maoist guerrillas massacre 26 police officers
Comments
By
Euronews
with
ANIBUSINESS INSIDER INDIAGREATER KASHMIR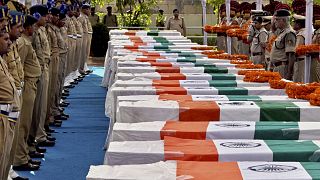 At around 12.25pm local time, in the Burkapal-Chintagufa area of south Bastar, India, the 74th Battalion of the Central Reserve Police Force (CRPF or Jawans) were stopping for lunch in a pocket of forest when around 300 Maoist guerillas or 'Naxalites' launched a surprise attack.
#UPDATE: Death toll of CRPF personnel in #Sukma Naxal attack rises to 26 #Chhattisgarhpic.twitter.com/4qFyxbWtOk

—

ANI

(@ANI_news) 24 avril 2017
The ensuing gun battle left at least 26 Jawans dead, six injured and five more are still missing. The Chhattisgarh Police described the attack as having been planned and executed with "deadly accuracy". The insurgents reportedly used locally-made mortars, tiffin bombs, and explosive arrow-heads before looting some of the Jawans' weapons.
A 'Naxal' or 'Naxalite' is a member of the Communist Party of India. The militant group was born out of a split in the party during the late 1960s. Between 2002 and 2006 more than 3000 people were killed in Naxalite-Government conflicts and the fighting had displaced an estimated 350,000 tribal members from their ancestral lands by 2009.
They were around 300 & we were around 150, we kept firing. I shot 3-4 Naxals in the chest: CRPF constable Sher Mohammed injured in #Sukmapic.twitter.com/9LUK7ENRMX

—

ANI

(@ANI_news) 24 avril 2017
Before being whisked away in an ambulance, one injured officer told reporters that the Maoist rebels had sent local villagers to track their location before the 300-strong group appeared out of nowhere and launched the attack.
Deeply pained,their sacrifice should not go in vain.Classic case of mindless killing, no place for such things in democracy: V Naidu #Sukmapic.twitter.com/UNMWtVlCgo

—

ANI

(@ANI_news) 24 avril 2017
"The Naxalites fired at a patrolling party of the CRPF near Burkapal village, leaving six personnel injured," Chhattisgarh Police Special Director General (Anti-Naxal operations) DM Awasthi told PTI.
Jawans injured in CRPF-Naxals encounter in Chhattisgarh's Sukma shifted to hospital in Raipur. pic.twitter.com/6×5zZKANVy

—

ANI

(@ANI_news) 24 avril 2017
Prime Minister Narendra Modi said the country was proud of the valour of the CRPF soldiers. "The sacrifice of the martyrs will not go in vain. Condolences to their families. May those injured in today's attack in Chhattisgarh recover at the earliest," he wrote on Twitter.
The troops had been deployed to protect construction workers building a road through the region which is reportedly a hotbed for Maoist insurgents.
The Naxalites regularly launch such offensives in the area. In 2012, 76 CRPF troops died and last month another 12 suffered a similar fate in the very same region.