Elated Le Pen supporters brace for runoff
Comments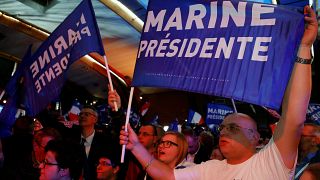 Supporters of National Front leader Marine Le Pen were elated to see her qualify for the May 7 presidential run-off against centrist Emmanuel Macron.
Fifteen years after her own father made it to the second round, they hope she can make history as France's first female president – one wants to shut down the country's borders, renegotiate EU treaties and slash immigration to one-tenth of its current annual level.
"The French must realise that Marine is the only option there is to save France, to pull it out of this situation we are in," Nathalie Acs, a militant of Le Pen's National Front party, told Euronews.
But Le Pen's supporters know all too well that most of France's political class is uniting to ensure their candidate doesn't make it to the top office. That strategy of the so-called Republican front led to Jean-Marie Le Pen ultimately losing in the second round back in 2002, with conservative Jacques Chirac reaping more than 82 percent of votes.
"I'm thrilled Marine won. Of course we're waiting for the run-off. If nobody throws a spanner in the works it will be alright, but if everyone rallies against her, how do you want her to win?" said Marie-Jeanne De Ketley, another militant.
Le Pen's electoral party was held in Hénin-Beaumont – a former mining town in northern France and a National Front stronghold.
Mayor Steeve Briois said: "All the other candidates preferred to spend the electoral evening in Paris for the first round, perhaps because they consider it's the centre of France, of the world or of Europe. But we think it's important to reach out to these suburban towns, to this France of the forgotten ones. That's also what it's about, to be close to the people rather than the elite."