March for Science draws thousands worldwide against evidence denial
Comments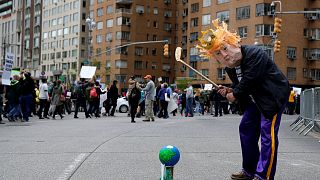 Demonstrators turned out in many cities around the world on Saturday to join Earth Day events billed as a "celebration science" – to counter what organisers say is a growing denial of evidence-based knowledge, not least by the Trump administration in the US.
In Europe thousands marched in London, Berlin and other cities in 'March for Science' events accompanied by slogans such as "facts not feelings" and "join the resistance".
The protest was initiated by US scientists acting against the president's proposed cuts to research budgets, as well as his team's scepticism about climate change and the need to slow global warming.
"The ideas that are being suggested by this administration are so dangerous that it almost seems like that their intention is to sabotage us. There isn't even a hint that they have any interest in public welfare or the welfare of the planet," said psychologist Chloe Marie Lucas, demonstrating in Washington.
Wow!!!#sciencemarchsf#marchforscienceScienceMarchDC</a> <a href="https://t.co/hNAbRprCZb">pic.twitter.com/hNAbRprCZb</a></p>&mdash; March For Science SF (ScienceMarchSF) April 22, 2017
Today on Earth Day, we celebrate our beautiful forests, lakes and land. We stand committed to preserving the natural beauty of our nation.

— Donald J. Trump (@realDonaldTrump) April 22, 2017
Hundreds of US cities held rallies, and the demonstrations which started in Australia and Asia also spread to South America.
The protests have been controversial in some scientific circles but organisers defended the march as crucial.
"This demonstration has to do with the fact that the American government has been cutting on funding for science and perhaps most importantly, they have not taken into account the evidence – especially about climate change – when it comes to public policies," said Dr Andres Couve of the Millennium Institute of Biomedical Neuroscience, speaking at a protest in the Chilean capital Santiago.
"So bad, even introverts are here"

March For Science Signs Are So Wonderfully Nerdy https://t.co/rZOArkwe9Upic.twitter.com/gp8U2jr4VY

— BuzzFeed News (@BuzzFeedNews) April 22, 2017
President Trump's proposed 2018 budget calls for deep spending cuts by government science agencies, including a 31 percent reduction for the Environmental Protection Agency.
In the past Trump has described climate change as a hoax stifling policies designed to promote economic growth.
The White House said in a statement that "rigorous science" was critical to achieving "the twin goals of economic growth and environmental protection".
I am committed to keeping our air and water clean but always remember that economic growth enhances environmental protection. Jobs matter!

— Donald J. Trump (@realDonaldTrump) April 22, 2017
After 26 hours — and over 60 updates — we're wrapping up our global coverage of the #MarchForScience …for now. https://t.co/gQXjrTvLH0pic.twitter.com/VMyuj492pU

— News from Science (@NewsfromScience) April 23, 2017