International observer in Ukraine killed in land mine
Comments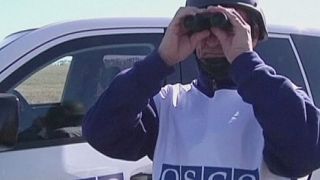 A member of a European security watchdog was killed in Eastern Ukraine when his vehicle drove over a land mine.
The American was part of a monitoring mission for the Organization for Security and Cooperation in Europe.
The watchdog has been trying encourage dialogue between Russia and Ukraine throughout the crisis.
A German woman who also worked for the OSCE was also injured.
Three years after Moscow annexed the Crimean region, tensions between Ukraine and separatists in the Russian-held eastern part of the country remain high .
A 2015 ceasefire agreement is violated regularly.
The Ukrainian military said the incident took place just after 10am local time near the small village of Pryshyb, which is controlled by pro-Russian separatists.