German anti-immigrant AfD party moves more to the right
Comments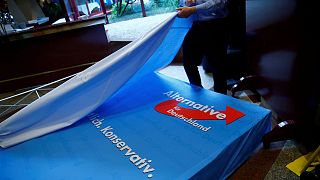 The nationalist, anti-immigration Alternative for Germany party has voted for a new campaign leadership ahead of elections in September.
Alice Weidel and Alexander Gauland were chosen at a congress in Cologne.
The surprise change at the top came after the current co-leader Frauke Petry failed in her attempt to take the party more towards the mainstream.
Weidel told delegates: "We will enter the parliaments of Schleswig-Holstein and North Rhine-Westphalia in May, and then, dear friends, we will rock Germany. We will rock it, absolutely."
Petry, the main face of the party, had earlier failed to get delegates to debate a motion on seeking what was described as a more pragmatic political path.
She decided not to lead the election campaign but remains a co-leader.
Petry said: "We think Germany and France are the only game changers in Europe in order to push the European Union in a new direction."
Protest rallies were held in front of the AfD's congress.
Tens of thousands joined a rally on Saturday but on Sunday the gatherings were more low key.