Football for Friendship programme
Comments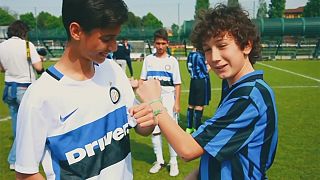 The fifth season of Gazprom's Football for Friendship programme is here.
Friendship bracelets have become a symbol of the youth football programme since 2013, and hundreds of thousands of people all over the world wear the green and blue bracelets, which symbolise tolerance, equality and a healthy lifestyle.
The chairman of Gazprom's board of directors got involved after a participant from Russia gave him a bracelet.
Victor Zubkov, said: "It is a big social project for children.
"Our goal is not only to bring kids into to the big football, but also to encourage them to communicate with each other in order to develop the values which every civilised person must have and understand: friendship, equality, justice and a healthy lifestyle."
This year's tournament is spread across four continents, and the teams have been decided by an open draw.
The rules have had a shakeup, so this time each country can only have one player on the field and for the first time the teams are mixed.
Mr Zubkov, added: "Girls and boys: there are 64 football players.
"Besides that, each country will provide one young journalist.
"Some boys who participated in Football for Friendship in the past will be involved as coaches".
The participants of the fifth Football for Friendship season are 12-year-old boys and girls, including children with special needs.
Eight international teams will meet on the field this summer in Saint Petersburg, where participants will be able to attend the FIFA Confederations Cup Final which take place in the city on July 2.