San Francisco suffers large power cut for several hours
Comments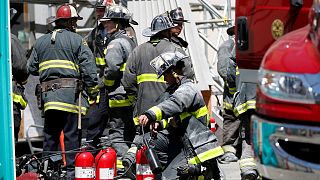 San Francisco was hit by a massive power cut on Friday that severely disrupted life in the American west coast city.
Businesses were particularly affected; San Francisco has a thriving financial district and his home to banks and technology companies.
The outage was caused by a fire in a substation after a circuit breaker failure. Starting at 9am, at one point it affected nearly 90,000 customers in 14 neighbourhoods, according to the energy supplier.
The city's main shopping district virtually closed down as major retailers shut their doors.
Emergency services were called to some 20 lift failures but there were no deaths or injuries.
As public transport including San Francisco's famous trams ground to a halt many people decided the simplest thing was just to go home.
Happy to report no major injuries due to #poweroutage and PGE4Me</a> says all power restored by 5pm. <a href="https://t.co/GcrIQkpet5">pic.twitter.com/GcrIQkpet5</a></p>— Mayor Ed Lee (mayoredlee) April 21, 2017