'Enough is enough', Sessions tells US sanctuary cities protecting migrants
Comments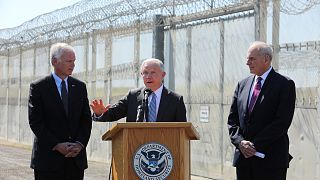 The US Attorney General has warned America's so-called "sanctuary cities" protecting immigrants from potential deportation that "enough is enough".
It came as Jeff Sessions and Homeland Security Secretary Michael Kelly toured the US border with Mexico near San Diego.
Letters have been written to nine jurisdictions telling them to cooperate with federal policy or risk losing grants.
"The Department of Justice is absolutely committed to race neutral and fair application of the law in every circumstance. But we have lawful systems of immigration and shouldn't that be enforced? Is that racist to say so? Is it wrong to say that if somebody enters our country unlawfully and they get caught next week in Los Angeles that that somehow is an abusive thing to apprehend them and deport them?" Attorney General Jeff Sessions said.
Some of the sanctuary cities – which refuse to cooperate with federal agents over suspects whose legal status is in question – have said they won't give in to threats.
Both senior members of President Trump's team expressed their commitment to securing the border. One has said plans to build a wall along the frontier could move forward "by the end of the summer".
Nine cities & counties he threatened w/loss of funding today for being 'sanctuary cities.' https://t.co/95yp17yOtghttps://t.co/w0iKb2vuHw

— Sherrilyn Ifill (@Sifill_LDF) April 22, 2017