Venezuelan opposition protest against Maduro again
Comments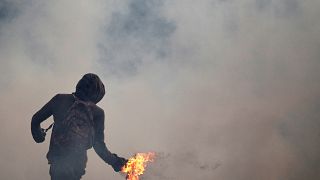 Venezuela's opposition renewed protests across the country on Thursday to pressure President Maduro's government to hold elections, a day after three people were killed in similar demonstrations.
However the crowds were smaller than the hundreds of thousands who protested in Caracas and elsewhere the previous day.
The wife of jailed opposition leader Leopoldo Lopez called on the authorities to put down their weapons.
"We leave our homes with a lot of strength and a lot of faith because protesting is a constitutional and universal right. The Nicolas Maduro regime doesn't even allow us to gather," Lilian Tintori said.
Also present on the demonstration was Henrique Capriles, the opposition leader barred by the government from holding office.
Opposition lawmakers accused security forces of using excessive tear gas and force to block the marches.
The protests echo those in 2014 when Maduro's critics took to the streets of Caracas and battled police for three months.
They faded out but the economy has further deteriorated since then, with shortages of food and medicine.
The renewed wave of protests was sparked by a Supreme Court move in March to assume the powers of the opposition-led Congress, a move that was largely reversed a few days later.