South Africa bus crash kills 19 children
Comments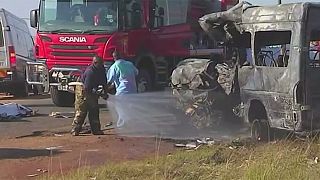 A bus crash near the South African capital Pretoria has claimed the lives of at least 19 children and their driver, emergency services said on Friday.
The vehicle was ferrying children from school when it collided with a truck and burst into flames. It was not clear what caused the collision, police said.
Emergency services managed to rescue only a handful of children. Those trapped inside the smoking wreck were said to have been in primary and secondary school.