Eight fatally electrocuted as Venezuela protests escalate
Comments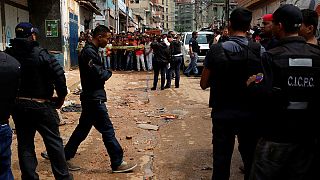 Escalating violence in Venezuela has resulted in the fatal electrocution of eight people in Caracas.
The national prosecutor announced they were among 11 killed on Thursday night, taking the total death toll to at least 20 in protests in April so far.
An inquiry has been launched into the most recent deaths. Those electrocuted are reported to have been looting a bakery when they died. The other victims were shot.
Supermarket owner, Hane Mustafa, gave his account of what happened:
"They started looting the butcher, where we are right now, and afterwards they went to the butcher next door and started looting a bakery where some people died following an electrical problem."
Clashes have erupted in Venezuela in protest against President Nicolas Maduro. His opponents accuse him of seeking to create a dictatorship and are angered by the serious economic crisis in the country.