Avoid Clinton vs Trump tragedy, American actors urge French voters
Comments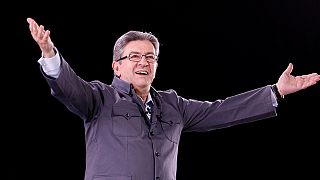 American actors and intellectuals have urged French voters to unite behind Jean-Luc Melenchon to avoid a "Hilary Clinton versus Donald Trump tragedy".
Actors including Danny Glover and Mark Ruffalo and philosopher Noam Chomsky have launched a petition urging "progressive" voters to rally "behind the Left candidate with the most support in the polls".
Far-left firebrand Jean-Luc Melenchon is close behind leading rivals centrist Emmanuel Macron and far-right contender Marine Le Pen.
The petition says: "Don't force French voters to choose between corporate establishment liberalism and xenophobic right populism.
"Unite in the first round of the presidential election behind the Left candidate with the most support in the polls."
Join our call for a progressive presidential candidate in France! First round choice in #franceelections is crucial https://t.co/UtBqLtYP8G

— Danny Glover (@mrdannyglover) April 19, 2017
The signatories note that "in recent weeks, progressive candidate Melenchon has risen in the polls and is now perceived as a serious competitor in the presidential election in France."
The petition adds: "The outcome of these elections isn't just critical for France; it's critical for the future of Europe and the world.
"With a truly progressive government, France has the economic and political clout necessary to reverse the European Union's pro-austerity, anti-worker agenda, and put it back on the path of economic and social progress."
"Ce que nous faisons est regardé dans le monde entier ! Merci aux soutiens internationaux." – charligarotte</a> <a href="https://twitter.com/hashtag/FeuilleDeRouteFi?src=hash">#FeuilleDeRouteFi</a> <a href="https://t.co/KBTbN4RXil">pic.twitter.com/KBTbN4RXil</a></p>&mdash; Jean-Luc Mélenchon (JLMelenchon) April 19, 2017
The petition is also signed by actor Oliver Stone and author of the Vagina Monologues Eve Ensler.
Melanchon tweeted Danny Glover, thanking him for the support.
The MoveOn.org petition has so far received close to 8,000 signatures from all over the world.