At least two killed in clashes during 'mother of all marches' in Venezuela
Comments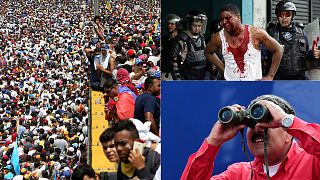 At least two Venezuelans have been killed in clashes on the sidelines of mass anti-government protests.
A teenager was fatally shot in the head in the capital Caracas, and a woman killed in gunfire during a rally near the Colombian border.
During what was referred to as "the mother of all marches" scuffles between security forces and protesters broke out, as the death toll rises to at least seven lives so far this month.
Hundreds of thousands of demonstrators took to the streets in Caracas and other cities across the country to protest President Nicolas Maduro's perceived mismanagement of the economy.
Many feel the leader has only served to worsen the country's deepening economic crisis, and using dictatorial measures to quash public unrest.
Caracas, Venezuela earlier today. At least two dead during mass protests. Maduro acuses the US government of plotting a "coup attempt". #19Apic.twitter.com/db9CH6dkhz

— Enrique Acevedo (@Enrique_Acevedo) April 19, 2017
"We are writing a new page in history," said Miguel Pizarro, an opposition congressman.
"Let's not let anything make us think it's impossible. We are the majority. We are many more. And we will change this country, whether they like it or not."
Maduro says the opposition is trying to topple his Socialist government, and he got his supporters to hold a counter-demonstration, although it attracted a considerably smaller crowd than the march calling for his resignation.
He spoke at a rally of his supporters on Wednesday, telling them that he wants to "win the battle".
"I want the people to prepare to win it peacefully and with votes. I want us to prepare to have a prompt, total electoral victory," he said.
The rival marches carried echoes of the clashes between pro and anti-government protesters that triggered a brief coup against late president Hugo Chavez in 2002.
Venezuela: Police firing teargas against a fleeing crowd in Caracas. People vomiting on the street from the gas. I saw several people hurt. pic.twitter.com/RXfZrbZOAP

— lotten collin (@lottencollin) April 19, 2017