May goes for broke with election call
Comments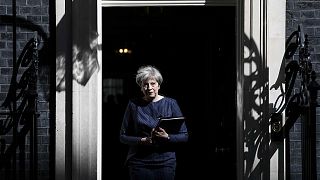 Theresa May's decision to "reluctantly" call an early election marks her first major u-turn as prime minister.
All the times Theresa May said there was no way we'd be having an election before 2020 https://t.co/J4roBr8SXKpic.twitter.com/ryz0uMIxJB

— HuffPost UK Politics (@HuffPostUKPol) April 18, 2017
She has consistently ruled out such a move, but now says the UK has no choice; with parliament failing to unite, make no mistake, this is the real battle over Brexit.
Why call an election now? It's not just to trounce Labour#GeneralElectionhttps://t.co/dILVxPhExmpic.twitter.com/9Cy2gFZCef

— The Conversation (@ConversationUK) April 18, 2017
The scene is perfectly set for a political punch-up. The opposition Labour leader, Jeremy Corbyn, is still mired in internal party conflicts and Scottish First Minister Nicola Sturgeon is readying to battle again over Scotland's independence.
A snap General Election has been called for June 8th. Here's a reminder that every vote counts. #GE17pic.twitter.com/z27yZ70p2X

— WebRoots Democracy (@WebRootsUK) April 18, 2017
Other parties the, Liberal Democrats, in favour of Remain will also be hoping to land devastating blows to upset the Tories.
May's decision could coincide with Corbyn's continuing faltering fortunes.
Despite fighting off disgruntled colleagues seven months ago, he remains a target for many insiders who believe his far-left policies have no chance of seeing the party elected.
Currently, the Conservatives have 330 MPs, giving the party its working majority of 17. Labour has 229, the SNP 54, and the LibDems 8.
(Minor parties and independents hold the remaining seats, in a 650 strong Commons.)
Lib Dem leader Tim Farron signals he'll support the motion to hold an election on June 8 https://t.co/H0eSkoKxY6pic.twitter.com/jxmUW8Q3vx

— Bloomberg Brexit (@Brexit) April 18, 2017
May will certainly be aiming to boost her slim majority as recent polls put the Conservatives ahead by as much as 20 points.
But the fate of Scotland could determine whether May gets a landslide.
Nicola Sturgeon has made it clear she wants to hold another independence referendum over Britain's exit from Europe, a decision ultimately that has to be sanctioned by the British prime minister.
Nicola Sturgeon's broadcast interview: "Mandate for a 2nd independent referendum is there and it's clear." https://t.co/STwpWQ44sDpic.twitter.com/oJ4L6ifCCH

— PoliticsHome (@politicshome) April 18, 2017
The SNP won 56 of Scotland's 59 seats at the last general election (2015) and the party feels optimistic about performing a clean sweep next time around.