Britons mull May's election gamble
Comments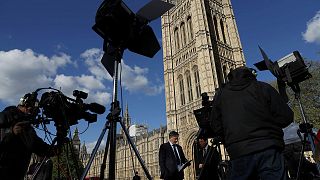 The news that Britain's prime minister called a snap election has sent shockwaves throughout the UK.
Theresa May told reporters that she would seek a new vote on June 8 in order to strengthen her hand in Brexit negotiations.
Breaking her vow not to call an early ballot, the timing of her decision has raised eyebrows – as her Tory party hold a double-digit lead over Labour.
"It makes perfect sense, if you are 21 percent ahead in the polls you take the chance, rather than sitting around with a majority of twelve and having bits of your budget shelved," said one UK resident.
Why Teresa #May is calling a #snapelection. Only good news is that Labour will have a new leader after #Corbyn gets clobbered. #GE2017pic.twitter.com/UhJvd3f56B

— Gareth Harding (@garethharding) April 18, 2017
The news didn't sit well for everyone, with some saying it smacked of opportunism.
"We think she is doing it deliberately when the opposition is very weak and when there is no credible alternative and we think it is bad news for the country," explained one UK resident.
"I don't think it will heal the country, I think it will heal her and heal the government, but I don't think it is going to do any favours to the country at all to be honest. I think it may be things a bit more divisive again, but we will have to wait and see," claimed another would-be voter.
May is hoping her gamble will pay off, but it could have the opposite effect, with those who voted to remain in the EU putting their strength behind a single party in a protest vote.
Some on Twitter have already found their slogan: Let's make June the end of May.
Let's make June the end of May..#GeneralElection#GE2017pic.twitter.com/XrSqdril4Z

— Stephane Savary (@stephane_ulrich) April 18, 2017
Others joked about the frequency at which Britons are called to the urns.
Did you know that polling stations are sometimes used as primary schools? #GE2017

— Craig Steele (@craig88) April 18, 2017