Turkey's opposition loses appeals against referendum
Comments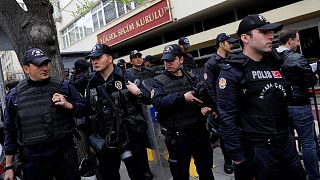 Turkey's high electoral board on Wednesday rejected appeals to annul the referendum granting President Recep Tayyip Erdogan sweeping new powers.
It is completely unacceptable to call people to the streets... and not to recognise the results

Turkish Prime Minister
The electoral body ruled by 10 to one to deny the objections put forward by the CHP and hundreds of individuals, the Anadolu news agency reported.
The country's main opposition parties – including the pro-Kurdish HDP – have challenged Erdogan's 51.4 percent victory, saying Sunday's vote was rigged because it included unstamped ballot papers.
After hearing its appeal was rejected, Turkey's main opposition CHP party said it would challenge the referendum all the way to Turkey's Constitutional Court or to the European Court of Human Rights.
"This is a serious legitimacy crisis," CHP deputy chairman Bulent Tezcan told reporters in comments broadcast live on television. He said his party would use all the legal ways available to appeal the result.
Meanwhile, Prime Minister Binali Yildirim, who will lose his post once the constitutional changes kick in, said people had the right to appeal the result, but not to call protests against it.
"It is completely unacceptable to call people to the streets through various communication tools and not to recognise the results," Yildirim said.
Thousands have rallied in Istanbul, Ankara and other cities since Sunday's vote, accusing the ruling AK Party of election fraud.
Police have arrested dozens of people suspected of organizing and taking part in the protests, but more were scheduled for Wednesday evening.
Second night of protests against Turkish referendum result https://t.co/cpEVD7JMjnpic.twitter.com/mzZRr1V3bW

— euronews (@euronews) April 18, 2017