Turkey divided: protesters fill streets in Istanbul and Ankara
Comments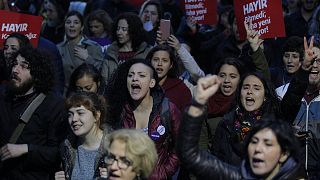 Thousands have taken to the streets of Istanbul to protest against the outcome of the referendum in Turkey.
Some chanting 'thief, Erdogan' and 'no to the presidency' showed their anger at the Yes victory to change the constitution and grant sweeping powers to the president.
Turkey's main opposition parties have rejected the result and called for the vote to be annulled.
"I believe there were a lot of irregular and illegal incidents," said one No voter at the protest. "We heard a lot of news. We stood up for our vote that day. We don't accept the `Yes` result because the outcome was `No`," he added.
"I don't want the parliament to be interrupted. I want a parliament 100 percent elected by us. I am against one-man rule and dictators," explained another No voter.
The narrowness of the victory has raised doubts. Election observers say the referendum was an uneven contest with arrests of journalists and the Yes campaign dominating coverage. International monitors pointed out that a last minute decision by the Electoral Board to accept unstamped ballots contradicted electoral law.