Second deadly landslide in a month rocks Colombia
Comments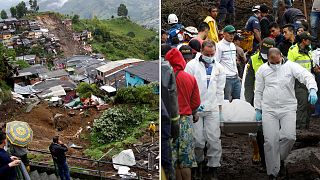 A deadly landslide has rocked Colombia for the second time this month, claiming at least 11 lives just weeks after more than 300 were killed in a similar disaster.
Twenty remain missing after the landslide hit several neighbourhoods in Manizales, near the Nevado del Ruiz volcano.
Further horrific news from #Colombia: 11 killed and 20 disappeared in Manizales, after torrential rain triggers landslides pic.twitter.com/1UPgLNMpvV

— Daniel Voskoboynik (@bywordlight) 19 April 2017
The city is the capital of Caldas province, one of Colombia's main coffee producing regions situated to the west of Bogota.
Another disaster earlier this month claimed more than 300 lives, when flash flooding caused huge mudslides in Mocoa in southern Colombia.
Colombian President Juan Manuel Santos said he was trying to get to the scene, but that airport closures due to bad weather had delayed his journey.
He said he would make his way to the city as soon as the airports reopen.
Mayor of Manizales Octavio Cardona Leon, blamed recent heavy rains for the deadly landslide, saying the city had seen a month's average rainfall in just one night.
Landslides are a common occurrence in the South American country, with its mountainous landscape, heavy rains and informal construction frequently combining with often disastrous effects.
In 1985, the Armero disaster claimed more than 20,000 lives – a major consequence of the eruption of Nevado del Ruiz, which saw pyroclastic flows send four enormous lahars (volcanically induced mudslides, landslides and debris flows) down its slopes at 50 km/h.