Central Europe shivers as snow covers spring blossoms
Comments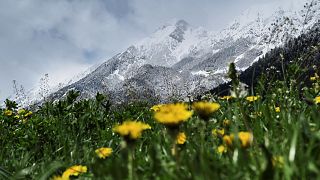 A cold spell sweeping across central Europe has brought snow back to some countries including Germany, Poland and Slovakia.
Most of Romania is shivering under sub-zero temperatures and winds exceeding 70 kilometres per hour, and the mountainous regions have been blanketed in snow.
In eastern Ukraine, a white coat, 30 centimetres thick in some areas, has covered the early spring blossoms. In Kharkiv, the country's second-largest city, the weight of the snow pulled down trees and electric supply lines, leaving over a thousand homes without any power.
In Switzerland too, more than 20 centimeters of snow has fallen in two days, and the freezing temperatures are starting to worry farmers and winegrowers alike.
The cold spell could bite until the middle of next week.