Bolivian opposition urges President Morales against potential fourth term
Comments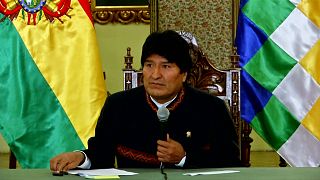 Opposition leaders in Bolivia have urged President Evo Morales to follow the example set by Paraguayan leader Horacio Cartes and give up his bid to run for a fourth consecutive presidential term.
The leftist leader has said he may stand in the 2019 election, despite losing a 2016 referendum on constitutional reform's that would have allowed him to run again.
However, Morales said that he had no intention of engaging with the opposition on the matter.
He said: "I debate with the people, not the Right wing. What are they going to debate if they have no policies? Are we going to debate their lies?"
A referendum on the issue held in February 2016 saw a slim majority vote against the reforms.
Morales previously accepted the result, but blamed the loss on a smear campaign by the opposition.
Under Bolivian law, the leader could run in 2019 if he were to resign six months before the end of his term.