[360 video] Visit the newsroom which rattled the French presidential elections
Comments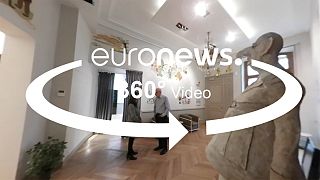 The satirical magazine the Canard Enchaîné rattled France's presidential election campaign with its revelations about the centre-right candidate Francois Fillon.
It is the curse of politicians, having claimed the scalps of many.
The Fillon investigation has once more proved its investigative credentials.
Renowned for its independence, the Canard has no online edition, does not carry publicity and has no defining political or economic line.
"If we had put the Fillon articles online, what would we have put in the print edition when it came out? It is proof that print still has a purpose and can earn its keep. If journalists are independent then so is the newspaper. We are an oppositional force, in other words we limit the stupidity and nonsense that you get from politicians and institutions," former editor Claude Angeli told Euronews.
The weekly was created in 1915 during the First World War.
It targets the right as well as the left.
As well as investigative journalism, there are illustrations, cartoons and jokes.
"It means a lot to me to be able to work for the Canard Enchaîné because it is an exceptional publication, in France and throughout the world. It is independent. What interests me, as an illustrator, is being able to reveal abuses of power. Oppression can exist even in democracies," said the Franco-Uruguayan illustrator Pancho.
The editorial line is summed up in the paper's slogan: "press freedom only erodes when it is not made use of."
This freedom is guaranteed by a war chest of tens of millions of euros in the bank.
"Are we a paper different from the others? Yes, in that we do serious investigations without taking ourselves too seriously. We investigate, we check and double-check but we don't tell our stories in a severe or serious style, we do it in the mocking way that the Canard has always operated," said Editor-in-Chief, Erik Emptaz.