Pope condemns deadly attack on Syrian convoy in Easter message
Comments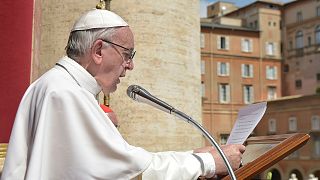 Pope Francis has used his Easter message to condemn the deadly attack on a convoy of evacuees in Syria.
His words were heard by tens of thousands of people gathered in St Peter's Square at the Vatican for his traditional Easter message.
Referring to the blast near Aleppo which killed more than 100 people, the head of the worldwide Catholic Church called for peace, saying Syrians were the "victims of a war that does not cease to sow horror and death."
"Yesterday was the latest ignoble attack on fleeing refugees," he continued.
The pontiff also called for an end to the conflicts in Ukraine, Yemen, South Sudan, Somalia and the Democratic Republic of Congo.
At another ceremony, Francis spoke of the suffering of migrants, criticising what he called the 'barren bureaucracies that stand in the way of change'.