Christians worldwide celebrate Easter
Comments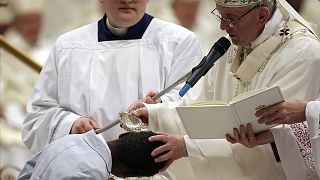 Pope Francis has led the world's Roman Catholics into Easter, urging the faithful not to ignore the plight of immigrants, the poor and other vulnerable people.
At an Easter Vigil Mass in St. Peter's Basilica on Saturday, he baptised 11 people, mainly adult converts to Catholicism, from around the world.
In Moscow, Patriarch Kirill, the head of the Russian Orthodox Church, celebrated Easter Mass in the Cathedral of Christ the Saviour.
#Easter liturgy mass at the Cathedral of Christ the Savior in #Moscowhttps://t.co/ekorfoF2hBpic.twitter.com/WjxvEIkm1P

— Sputnik (@SputnikInt) 15 avril 2017
Among those attending the service were President Vladimir Putin and Prime Minister Dmitry Medvedev.
Egypt's Coptic Christian minority attended Easter services in sombre mood after dozens died in church bombings a week ago, claimed by ISIL.
Egyptian Coptic Christians observed Easter Mass under tight security, still reeling from bombings just days before https://t.co/eMbOEAAGN7

— AFP news agency (@AFP) 15 avril 2017
Worshippers passed through a metal detector at the entrance to Saint Mark's Cathedral in
the Mediterranean port city of Alexandria, one of the two sites attacked on Palm Sunday.
Rafiq Bishry, head of the church's organisational committee, said he was surprised that so many people had come to the services that mark the biblical account of the crucifixion and resurrection of Jesus Christ, despite the increased security risks.
"This is a clear message to the whole world that we are not afraid," he said.