Scandal-struck Haiti UN peacekeeping mission to end
Comments
By
Euronews
with
REUTERS, NEW YORK TIMES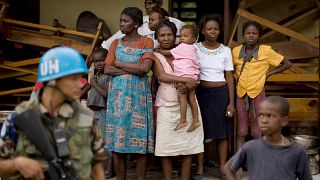 The scandal-struck UN peacekeeper mission in Haiti is to be wrapped up by mid-October, 2017. Its blue-helmeted soldiers will be replaced by a smaller police force.
In operation for 13 years, it has been accused of sexual abuse and blamed for dumping infected sewage into a river, causing a cholera outbreak.
The United Nations Security Council voted unanimously to end the mission.
Nikki Haley, US Ambassador to the UN outlined the situation children have found themselves in.
"We must acknowledge the abandoned children, 12 to 15 years old, who lived every day with hunger. They were lured by peacekeepers with cookies and snacks, the high price of this food was sexual abuse," she told the 15-member Security Council.
The UN has not accepted legal responsibility for the return of cholera. Since 2010, over 9,000 people in Haiti have died of the disease and more than 800,000 have fallen ill.
Economist and political leader Camille Charlemers pushed for more to be done to compensate those affected:
"We must take all measures for all available UN resources to be mobilised – human, technical and financial resources – to compensate the victims of cholera, to make amends to the thousands of women and children who have been raped."
According to an internal UN report, between 2004 and 2007 at least 134 Sri Lankan peacekeepers exploited nine Haitian children in a sex ring.
Haitians have welcomed the news of the UN resolution, which represents a major milestone towards nationwide stability.