British woman fatally stabbed in Jerusalem
Comments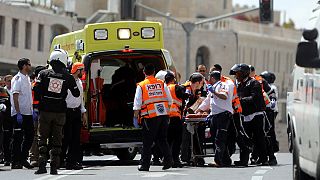 A British woman has been stabbed to death by a Palestinian man in Jerusalem.
The incident occurred on the Light Rail transit network, near the Old City, which was packed with people celebrating Good Friday and Passover. Security services have identified 57-year-old Jamil Tamimi as the assailant.
He is said to have stabbed the victim "multiple times in the upper part of the body."
Tamimi was restrained by an off-duty police officer who was travelling in the same carriage with his family and another passenger pulled the emergency brake.
The woman who is said to have been in her 20s, died two hours after being taken to hospital.
The attack is not thought to have been religiously motivated – Tamimi is said to have suffered mental health problems and holds a 2011 conviction for sexually assaulting his daughter. Authorities say he was recently released from a psychiatric hospital.
President of Israel, Reuven Rivlin said he was "filled with sadness" about the incident and offered his thoughts and prayers to the victim's family.
Our thoughts are with the family of the victim & the injured of the terror attack in Jerusalem. Terror can never overcome us.

— Reuven Rivlin (@PresidentRuvi) April 14, 2017
A spokesperson for the Foreign Office said "We are in touch with local authorities following an incident in Jerusalem on April 14."