United Airlines passenger likely to sue over forced removal
Comments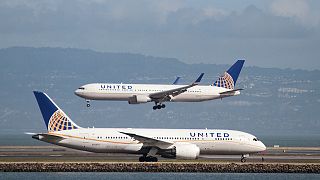 A lawyer acting for the passenger who was dragged from a United Airlines plane in Chicago say he will likely sue the company.
"For a long time airlines, United in particular, have bullied us," attorney Thomas Demetrio told reporters at a press conference in Chicago on Thursday.
"Will there be a lawsuit? Yeah, probably."
He said the law stated that passengers could not be ejected from planes with unreasonable force and it was still too early to put a price tag on compensation.
David Dao, a 69-year-old Vietnamese-American doctor, was hospitalised after Chicago aviation police dragged him from the plane as the airline sought to make space on a flight from the city's O'Hare International Airport to Louisville, Kentucky.
Concussion and a broke nose
Dao, who was discharged from the hospital on Wednesday night, suffered a significant concussion, a broken nose and lost two front teeth in the incident. He will need to undergo reconstructive surgery, Demetrio said, and is still under medical care.
Footage from the incident taken by other passengers shows Dao, bloodied and disheveled, returning to the cabin and repeating: "Just kill me. Kill me," and "I have to go home".
His forced removal from the overbooked flight has caused widespread outrage and has become a public relations nightmare for the airline.
Apology
United chief executive Oscar Munoz apologised to Dr. Dao, his family and United customers in an interview on ABC News, saying the company would no longer use law enforcement officers to remove passengers from overbooked flights.
But Demetrio and a second attorney, Stephen Golan, said neither they nor the family had heard directly from United yet.
Munoz is under pressure to resign over the incident.
Earlier lawyers filed an emergency request requiring the carrier to preserve video recordings and other evidence.
Chicago's Aviation Department said on Wednesday that two more officers had been placed on leave in connection with the incident. One officer was placed on leave on Tuesday