Asian Americans outraged at United Airlines' passenger eviction
Comments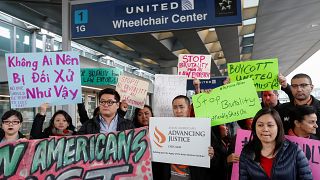 Asian-Americans have added their voice to the swelling criticism of United Airlines over its heavy-handed removal of a passenger from a domestic flight, accusing the company of racial discrimination.
A group of protesters gathered outside the United Airlines terminal at Chicago's O'Hare International Airport on Tuesday, chanting that when their community is under attack, they "stand up and fight back".
United faces global backlash after dragging passenger from plane https://t.co/nHxdHwjwqspic.twitter.com/F67MVtnlbm

— euronews (@euronews) April 11, 2017
Amateur video of a man – said to be David Dao, a 69-year-old doctor of Chinese origin – being dragged off the overbooked flight has sparked global outrage. In China alone, it was viewed hundreds of millions of times.
Comedy shows had a blast over the public relations disaster, for which the airline has apologised.
United CEO Oscar Munoz: I'm sorry. We will fix this. https://t.co/v8EPGsiDCipic.twitter.com/eOPiYcagvo

— United (@united) April 11, 2017
Jimmy Kimmel takes on United Airlines in hilarious mock safety video https://t.co/dmyoDyxlpTpic.twitter.com/IYsQVLTDZ4

—

CBS

News (@CBSNews) April 12, 2017
In Kentucky, a colleague of the man on the video said he still can't believe what happened. Ijaz Mahmood said he and Dao worked together at Hardin Memorial Hospital for several years, but that he hadn't seen his friend for a long time.
"Normally if you are somebody that they don't have a seat for one reason or the other, they will just walk with you…but security doesn't have to do that. So it must be a pretty significant altercation between two of them that it came to that point that security people have to drag him," said Mahmood.
An attorney who represents Dao said his client was being treated at a Chicago hospital for injuries he sustained on the plane and that the family would not comment.