Seville's Semana Santa Christian parades
Comments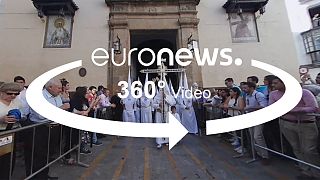 It's Holy Week in Seville when the city's 61 Christian brotherhoods parade through the streets on their way to the cathedral.
This year 76,000 faithful were involved in the procession, many of them hooded penitents wearing candles, acolytes and 121 "pasos", altars with sculptures of Christ, the Virgin Mary and other Easter figures.
Nowadays the parades, which date back to the 16th century, attract thousands of tourists.