Filipino Catholics perform bloody ritual
Comments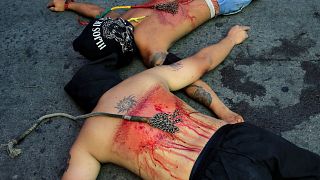 Hundreds of Catholics in the Philippines are celebrating the pre-Easter festival Maundy Thursday.
They mark the crucifixion of Christ by flagellating, or whipping, themselves to honour the suffering of Jesus.
The worshippers walk the streets of Manila with their heads covered with red or black cloth, hitting themselves with weapons made of chains and wood.
As part of the bloody ritual, devotees lay on their front, arms outstretched in prayer, and others hit their backs and backsides with wooden panels.
The rituals are seen as a way for devotees to atone for their sins, and protect family members.