Beslan:Russia to appeal ECHR ruling
Comments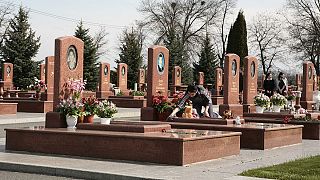 15 years on and Beslan still bears the scars of what happened
The chaotic gun battle that ended the siege was the bloodiest incident of its kind in modern Russian history.
Reaction is mixed among the relatives of those who died.
"We have been vindicated", one mother said,"but our health has suffered. It is also very sad because many of us are no longer here."
For some, the anger is still present.
"Why should we be glad about this decision," another mother asked. "There is no legal responsibility for the public officials involved, no legal or financial consequences over the Beslan affair."
The Russian government said it will appeal the ruling.
Russia's justice ministry said many of the court's findings were "unfounded" and complained evidence it had presented had been either ignored or misunderstood.