Russia's response to the Beslan school siege had ''serious failings''
Comments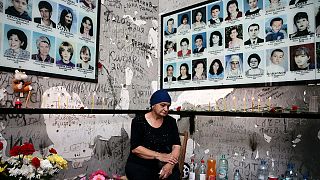 Russia's response to the 2004 Beslan school siege had ''serious failings'' and breached human rights laws, one of Europe's top courts has said.
Not only did Russia fail to take action to prevent the siege, its operation to end it and the subsequent investigation which followed were also seriously flawed, the European Court of Human Rights ruled on Thursday.
More than 330 people were killed in the Beslan massacre, including 186 children, after Chechen rebels took more than 1000 hostages.
The Strasbourg based court said Russian security forces had violated the victims right to life when they moved they in to free the school.
It judged the use of powerful weapons such as tank cannon, grenade launchers and flame-throwers contributed to the high number of casualties.
In response, the Kremlin rejected the verdict describing the court's criticism as ''unacceptable''. Russia was ordered to pay nearly 3 million euros in damages to victims, plus the legal costs.