War in Syria: Lavrov tells Tillerson US missile strikes must not be repeated
Comments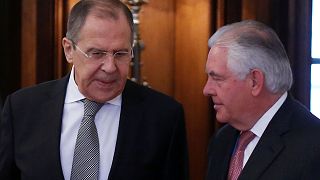 The US missile strike on a Syrian air base must not be repeated, that was the warning from Russia's foreign minister Sergei Lavrov as he met with Rex Tillerson in Moscow on Wednesday.
The US Secretary of State for his part brought a western message calling for the Kremlin to drop its long-time ally President Bashar al Assad, after last week's suspected chemical attack in Syria.
Addressing Tillerson in front of reporters Lavrov said: ''It is very important for us to understand your position, the US position, the real intentions of your administration. We hope that today we will move forward in this way.''
In response Tillerson said: "Our meetings today come at an important moment in the relationship so we can further clarify areas of common objectives, areas of common interests even when our tactical approaches are maybe different.''
The White House, which launched 59 cruise missiles at a Syrian airfield last Thursday, says it has proof Assad's forces used Sarin gas in the rebel-held town of Khan Sheikhoun.
89 people, including many children were killed in the suspected attack.
The Syrian government denies the claim while Russia has blamed rebel forces. Moscow has accused rebels of storing chemical weapons inside the town which were later accidently hit in air raids. President Putin, who could meet Tillerson later on Wednesday, has called for an independent UN investigation into the alleged attack.