Russia and US say progress has been made on Syria
Comments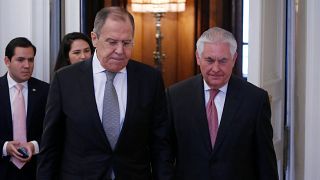 Talks have taken place in Moscow between the Russian foreign minister and the US secretary of state.
Sergei Lavrov says some progress has been made on Syria. A working group will be set up to examine the poor state of US-Russia ties, he added.
Lavrov said President Vladimir Putin said Moscow was ready to restore an air safety agreement covering Syria which it had suspended after last week's US missile strikes on Syria.
He added that Moscow and Washington have also agreed to continue cooperating to try to find a political solution for Syria.