Daily Mail apology for Melania Trump
Comments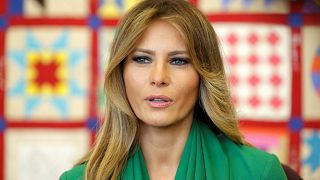 Britain's Daily Mail has agreed to pay Melania Trump an undisclosed sum and issue an apology after publishing an article saying the US First Lady offered "services beyond simply modelling" in her former job.
UK's Daily Mail to pay Melania Trump damages over modeling claims https://t.co/5AbHz7pfeapic.twitter.com/Y6lwMqk52a

— Reuters Top News (@Reuters) 12 avril 2017
Why has the Mail done this?
The 46-year-old wife of US President Donald Trump sued the publishers of the Daily Mail in the UK.
She also filed a $150 million lawsuit against the paper in New York, claiming the article had cost her millions of dollars in potential business.
Official Portrait of First Lady pic.twitter.com/K1DUVE5kSI

— Melania Trump (@FLOTUS) 3 avril 2017
How much have they agreed to pay?
A close source said the settlement is worth less than $3 million dollars, including legal costs and damages.
What has the Mail said?
The Daily Mail apologised for the article on Wednesday and issued a retraction on the home page of its website.
"An article on 20th August 2016 about Melania Trump..questioned the nature of her work as a professional model, and republished allegations that she provided services beyond simply modelling," said publisher Associated Press.
"We accept that these allegations about Mrs Trump are not true and we retract and withdraw them..we have agreed to pay her damages and costs."
What the lawyers say
At the High Court in London, Trump's lawyer said the article, headlined "Racy photos and troubling questions about his wife's past that could derail Trump", was published as a two-page spread.
It was accompanied by a photo of Melania Trump standing naked with her front against a well but looking back at the camera.
"Readers of the newspaper that day could not fail to miss the article," John Kelly told the court. "The article included false and defamatory claims about the claimant which questioned the nature of her work as a professional model."
"The suggestion that such allegations even merit investigation is deeply offensive and has caused a great deal of upset and distress to the claimant," Kelly added.