'Alarming' rise in Boko Haram child suicide bombings
Comments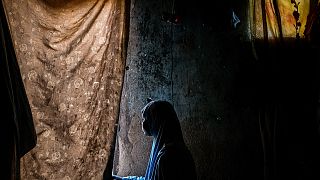 The use of child suicide bombers by the insurgents of Boko Haram has surged, the United Nations Children's Fund (UNICEF) said on Wednesday.
Since January 2014, 117 children – more than 80 per cent of them girls – have been used in such attacks in Nigeria, Niger, Chad and Cameroon, UNICEF said in a new report.
In the first three months of this year, 27 children have blown themselves up in northeast Nigeria alone, up from nine in the same period a year ago.
It's been nearly three years since Boko Haram abducted more than 250 schoolgirls from the town of Chibok in northern Nigeria, sparking a global outcry and the #BringBackOurGirls campaign. Only a few dozen have escaped or been rescued.
The Islamist militant group has snatched thousands of children, often raping them, forcing them to become suicide bombers, help the militants in their conflict or marry fighters, UNICEF said.
Boko Haram have used 117 children in 'suicide' attacks since 2014. More than 80% were girls. https://t.co/wFCJomT9cw#ENDviolencepic.twitter.com/jdhIQGGNeK

—

UNICEF

(@UNICEF) April 12, 2017
Rejection and stigma
Children who escape Boko Haram are often held in custody by authorities and rejected by their communities and families.
"In many cases when these children finally return to their communities or their families, they are stigmatised as children who have perpetrated acts within the community that are unacceptable," said Fatima Ibrahim, UNICEF child protection specialist.
"The problem with the rejection and stigma is that these children then become isolated, and if they become isolated, chances are they may actually find their way back to Boko Haram."
Nigeria's military on Monday released 593 people, including children, after clearing them of having ties with Boko Haram. About 370 children remain in custody, to be questioned on what they know of the group.
Amnesty International sounded the alarm last year over the high death rate of these detainees, saying many were held without any evidence and carried out in "horrendous conditions" – in dirty, overcrowded cells without enough food or water nor access to any legal support.
The Boko Haram insurgency has claimed more than 20,000 lives since 2009 and displaced at least 2.3 million people, half of them children.
Girls who've been abducted by Boko Haram have endured unimaginable sexual violence. New report → https://t.co/qVLIsD6PRz#ENDviolencepic.twitter.com/iP1UFRSCHe

—

UNICEF

(@UNICEF) April 12, 2017