Tempers flare as protesting prison guards clash with police near Paris
Comments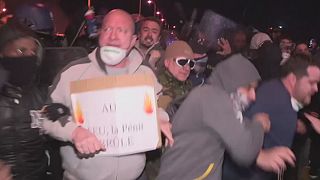 Protesting prison guards have clashed with police outside the sprawling Fleury-Merogis prison near Paris.
Things came to a head after a few hundred guards blocked the entrance and set tyres on fire to call attention to concerns about security and overcrowding.
Police sought to dislodge them from the blockade but met resistance and fired tear gas to try to disperse the crowd.
The prison which is used for housing violent criminals and Islamist extremists is working on a 190 percent capacity with what the unions say are too few prison guards.
Six were recently attacked prompting the latest protest.