Ladies Day at Aintree: The hats, heels and hangovers
Comments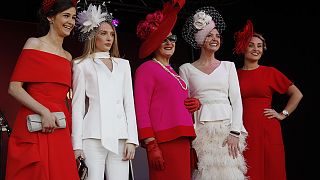 The Grand National is the most valuable jump race in Europe where world-class jockeys compete for a prize of £1 million, but the Friday that preceded the big race (April 7, 2017) was all about the ladies.
Ladies Day at Aintree Racecourse is known for big hats and glamour, with women and men preparing for the event days in advance.
However, at the end of a long day in the sun, after the champagne had been flowing, some of the carefully crafted elegant ensembles started to come unstuck.
Individuals, who appeared a little worse for wear, were pictured sitting on the concrete floor amongst a sea of used plastic cups and litter.