Egypt Coptic church blasts: first funerals held for victims
Comments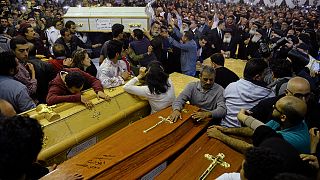 The first funerals have been held for victims of the deadly bomb blasts that struck two Coptic churches in Egypt.
ISIL has said it was behind the explosions on Palm Sunday which left nearly 50 dead and over 100 injured.
In the city of Tanta, coffins were carried to St George's, the scene of the first attack.
Questions are being raised as to how the suspected suicide bomber got inside the church.
"How did this happen on our feast? Where was the security? There was no security. Someone infiltrated with an explosive belt weighing six kilograms," one woman said.
"We were not expecting people who live with us in the same country, people whom we've shared love and friendships with, and whom we're familiar with, to do these things," said a priest.
The bombings, which come just weeks before an expected visit by Pope Francis, were the latest in a series of attacks on Egypt's Coptic Christian minority, who account for about 10 percent of the population.
Both blasts were caught on camera. In Tanta, some 100 kilometres north of Cairo, the explosion tore through the church during its Palm Sunday service. That left nearly 30 dead.
The other blast hit Saint Mark's Cathedral in Alexandria. Despite being stopped at the gate, the bomber was still able to detonate his device killing at least 17 people, including several police officers.